From impressive waterfalls and lush forests to the magical Sculpture Garden and gold rush history, Marysville is a delight to discover year-round.
Reborn from the 2009 ashes, Marysville has recovered. The town looks modern and chic. The native fern rebounded very well and the green is slowly returning to the area.
Marysville
Approximately 98 kilometres northeast of Melbourne (about a two-hour drive via Maroondah Highway), Marysville is a small town in the Yarra Valley, beautifully located in a picturesque valley surrounded by heavily forested mountains of the Great Dividing Range, 34 kilometres northeast of Healesville and 41 kilometres south of Alexandra.
Situated on the Steavenson River, Marysville has long been a popular holiday destination for nature lovers and adventurers alike, especially during the spectacular springtime when the flowers bloom, and the trees shed their leaves in autumn.
Its history dates back to the mid-1800s when gold was discovered in the area, however, it was not long before guest houses were established and the town became a favourite for honeymooners due to its pristine natural environment and tranquil setting amongst native bush and waterfalls.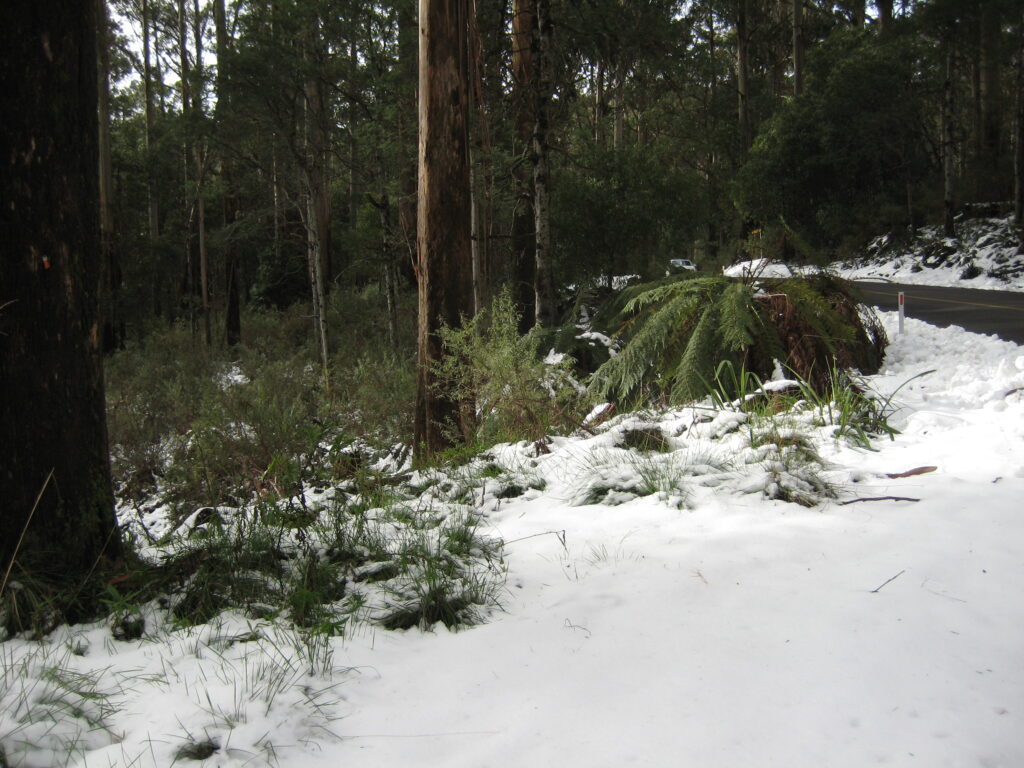 On our recent trip to Marysville, we drive through Yarra Valley, Healesville and along the majestic Black Spur Drive. It was a beautiful scenic drive under a canopy of tree tops, that winds through the forest with dense vegetation and beautiful fern trees covering the rolling hills. 
Once again, we found ourselves in this town invigorated by the pristine natural environment and diverse outdoor activities of Marysville and surrounds. However, today our visit to Marysville, for one particular reason; to experience the magical rebirth of the Sculpture Garden and brand-New Gallery (since 2009 bush fires).
A Brief History of Bruno's Art and Sculpture Garden
Established 1996 Bruno's Art and Sculpture Garden has been a paradise for art and garden lovers alike. Located in the small Victorian village of Marysville, Bruno's has created a stunning sculpture garden with a large section of rainforest attached.
Surrounded by the luscious sub-alpine forests, the property is a gallery that housed over 200 of his artworks brought over from Europe that included oil paintings, sketches and small sculptures. The garden itself began with just fifteen life size terracotta sculptures; today there are over one hundred on display and Bruno is still making regular additions.
After the fires swept through the town of Marysville in February 2009, Bruno rebuilt his home and gallery. This has been no small feat as the mess left over by the fires was atrocious.
Today the garden has blossomed into a new stage of life, most of Bruno's terracotta life size sculptures has been restored as well as his surviving paintings in the unique new gallery space.

Our Visit
Listed in Victoria's TOP100 bucket list, selected by "Experience OZ" as being part of the Victorian bucket list – 100 things to do before you die, the unique artworks handcrafted by Bruno has earned its place.
Art… Whimsical… Fantasy… Bruno's Sculpture keep us entertained as we wander through the pathways of his garden and discovered more than 160 sculptures scattered throughout the grounds. We spent quite sometimes admiring the amazing creativity of Bruno. It was an exquisite artwork!
We have been to Bruno's Art and Sculpture Garden before the gardens were destroyed in the 2009 Black Saturday bushfires. Twelve years on Bruno's Art and Sculpture Garden is rising from the ashes.
Hundreds of life-sized terracotta sculptures, from goblins, goddesses, wizards, witches and many more characters have created a new future full of considered appreciation, that's been led mostly by Bruno's imagination and passion about art.
It was a magical land filled with fairy tales. If you are in the area, we highly recommend a visit. It's a place for all ages.
Bruno's Art and Sculpture Garden Information
Address: 51 Falls Road, Marysville VIC 3779
Days and Hours of Operation: Garden is open 7 days per week (10am-5pm), Gallery is open on the weekends and public holidays (10am-5pm)
Admission Fees: Adult $10, under 16 $5, under 5 Free
Other Things to See in Marysville
Steavenson Falls – located 3 kilometres south-east of the town centre along Falls Road is one of Victoria's highest waterfalls with a drop of around 84 metres. A flat walking track leads from the car park to the falls where there are several viewing platforms. The trails and falls are floodlit from dusk until 11pm each night, powered by a hydroelectric turbine.
Gallipoli Park – a very scenic place to visit with a statue of young girl releasing a dove, titled New Life. It is also a great playground for children with a flying fox being a great hit with the children and the young at heart.
Keppel Lookout Trail – the most challenging trail in the area, climbs up through stringybark and mountain ash forest to four of Marysville's best lookouts for spectacular views across Marysville. Wear sturdy footwear, carry water and snacks are recommended.  
Lake Mountain Alpine Resort – around a 25-minute drive east of Marysville, Lake Mountain rises to a height of 1,433 metres and offers fantastic views of the Victorian Alps. We have been here several times, which during the snow season, when the mountain offers visitors cross country skiing, while at other times of the year bushwalking along the scenic ski trails is a popular activity.
Lady Talbot Forest Drive – accessed via Woods Point Road just east of town, the scenic rainforest car journey passes a number of fantastic walks and waterfalls in the Yarra Ranges National Park. It is our picnic and city escape for a day. The drive is just over two hours from Melbourne through the famous Black Spur Drive, another road known for its scenic beauty.
Note: The information provided in this post was correct at time of publishing but may change. For final clarification please check with the relevant service.