Travel period Feb 2014
Rich cultural heritage and a history of artistic innovation and excellence
After our snowboarding trip, we took the bullet train to Kanazawa, a small city on the west coast of Japan with a population of about 500,000 inhabitants.
Kanazawa is a vibrant city with many shopping streets and lots of cosy restaurants and cafes, and it turned out to be one of the best surprises and highlights of our trip.
It caught my attention when I read about one of Japan's three most beautiful landscape gardens and saw the picture of Kotoji-toro Lantern.
Getting to Kanazawa
We traveled to Kanazawa from Nagano, taking about 66 minutes by Shinkansen (Japanese bullet train). If you are travelling from Tokyo it takes about two and half hours by Shinkansen.
About Kanazawa
Located in the central part of mainland Japan, Kanazawa is the prefecture capital of Ishikawa, a narrow stretch of land on Japan's main island of Honshu along the Sea of Japan. It was one of the most important centers for culture and art during the Edo period, and now it is full of modern museums and workshops on everything from gold leaf handcrafting to preserved samurai's and art.
Kanazawa boasts many historical attractions such as restored residences and districts. Kanazawa is famous as the former castle town of the Maeda's, the second largest clan in feudal Japan. In the heart of the city you can find one of Japan's most beautiful landscape gardens, Kenroku-en, established in 1822 by the Maeda's.
We stayed at Daiwa Roynet hotel Kanazawa, conveniently located just a couple of minutes' walk from JR Kanazawa station and bus station. The staff were lovely and helpful with what we needed, the room was spacious with crisp linen and quality toiletries; we wholeheartedly recommend it.
Kanazawa station is a modern glass and iron structure, with a monumental wooden entrance in the form of traditional torii gate, one of the symbols of the city. Inside the station, there is a shopping mall, shops, restaurants and an entire hall dedicated to selling bento boxes.
We were lucky enough to witness the Calligraphy Exhibition by Koji Kakinuma. Calligrapher Koji Kakinuma was born in 1970 and lives and works in Tokyo. Kakinuma has continually pushed the boundaries of Shodo (calligraphy), where an ink-dipped brush is used artistically to create Chinese kanji and Japanese kana characters, and remains a traditional part of Japan's culture.
We continued exploring Kanazawa station and kept walking from one shop to another. Tired and hungry we had tonkatsu (crispy crumbed pork) for dinner at one of the many restaurants in the station before we walked back to our hotel.
The next day we were excited to explore the city of Kanazawa. When it comes to getting around the city of Kanazawa, it's best to catch the Kanazawa loop bus, which is a tourist-oriented bus that takes you to all the major sites and attractions. You can buy a day pass at the bus ticket office for 500 yen, or pay 200 yen per ride. Here are our highlights of Kanazawa:
Omicho Market
Omicho Market has been Kanazawa's largest fresh food market since the Edo Period. We went to the market in the morning, its about a 15-minute stroll from the hotel. The market is a warren of narrow covered alleys lined with up to 200 stalls.
For a city of only half a million, the market was surprisingly big, with the restaurants occupying the upper level, while fresh produce stallholders predominantly occupy the ground level.
The main focus at the Market, and indeed pretty much Kanazawa as a whole, is seafood. Crab, lobster, squid, prawns, you name it, it'll be there and as fresh as you'll get in any great coastal city.
Utatsuyama Temple District
The Utatsuyama Temple Area is one of the temple districts in Kanazawa, crowded with more than 50 temples and shrines. The Maeda family, who ruled the Kaga Domain (the present Ishikawa and Toyama areas), collected shrines and temples in these districts.
It is a short walking distance from the Higashi Chaya District to the foot of the mountain, where a long, winding alley and slope continues. You will see old shrines and temples one after another along the alley. It was quite a walk for us, as there were 12 temples and shrines to visit, we visited only a few of them.
Kanazawa Castle
The beautiful Kanazawa Castle, originally built in 1580, was called the "castle of 1000 tatami" and housed the ruling Maeda Clan for 14 generations. Unfortunately, it was burnt down several times over the centuries, with the most recent fires in 1881, but was rebuilt in 2001.
It is free to visit the Castle Park but to enter the Castle costs 310 yen per person. Inside the Castle there are many exhibits of the traditional wooden construction method used to rebuild the castle in 2001. For instance, they have a miniature model version of the castle inside, showing its internal structure and how it was built.
The elegant gate from the Kenroku-en Garden, built in 1788, is one of the few remaining original structures left of the original castle. It is connected with a lovely bridge over to the Kenroku-en Garden.
Kenroku-en Garden
The Kenroku-en Garden is ranked as one of the top three gardens in Japan, and is absolutely stunning! It was a highlight of our day in Kanazawa.
The name Kenroku-en literally means "Garden of the Six Sublimities", referring to spaciousness, seclusion, artificiality, antiquity, abundant water and broad views. The garden definitely has all six of them.
We took a stroll around Kenroku-en garden, and it helps to understand this landscape theory as the grounds are teeming with water features, bridges, tea-houses, trees, flowers, stones, viewpoints and hidden nooks to discover.
By the bank of the Kasumi pond stands the Kotoji-toro Lantern, designed after the bridge of the Koto, a traditional Japanese musical instrument. The over two-meter tall Kotoji-toro Lantern, uniquely built with two legs instead of one, and is an iconic symbol of Kenroku-en.
The seasonal beauty of Kenroku-en Garden can be enjoyed throughout the year, with plum and cherry blossoms in spring, azalea and irises in early summer, colorful leaves in autumn and a magical snowy landscape with the characteristic yukizuri in winter. This is a method of protecting the branches of the pine trees in the garden with ropes attached in a conical array to the trees in order to prevent the branches from breaking. Freshly fallen snow gives the garden a different, attractive seasonal look.
Higashi Chaya District
Across the river from the city center of Kanazawa is an area of narrow streets dating back to the early 19th century where the romantic wooden houses are well-preserved. The Higashi Chaya District is one of Kanazawa's three tea-house districts. The historical rows of tea-houses rival Kyoto's Gion and Kanazawa Kazue-machi in beauty, and they have been designated as an important national cultural asset. When we entered the back streets, we found a maze of continuous alleys.
While we walked alongside the streets of the Geisha District, we could easily picture how it must have been back then when the streets were crowded with wealthy tradesmen, and who sought to be entertained by Geishas.
Most of the former Geisha houses have been turned into museums, shops, restaurants, and cafes. During the Edo period, the Kanazawa's ruling Maeda family started the emergence of many crafts, which are still practiced today in the Kanazawa area. In the Geisha District, there are many nice shops selling locally produced crafts that are a specialty of Kanazawa, for instance lacquer-ware, pottery, porcelain, silk dyeing and gold leaf products.
Kanazawa Gold Leaf
The history of Kanazawa gold leaf dates back to the late 16th century. Kanazawa's gold leaf industry made rapid progress in the late 19th century because of the craftsmen's high level of technique and the high quality of the water that was used. Today Kanazawa produces 99% of Japan's gold leaf, and 100% of its silver and other metal leaf.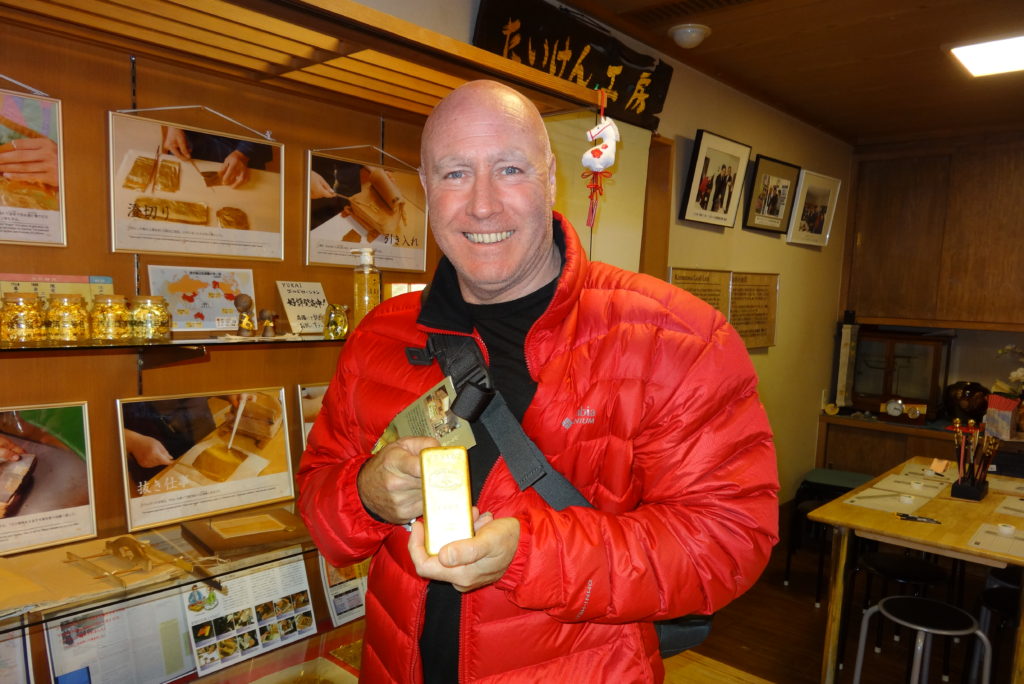 We dropped by at a shop called Sakuda Gold and Silver leaf for a quick stop. They have a display with all the different items that have been gilded in gold leaf, tools of the trade and exhibits that explain how the process is done.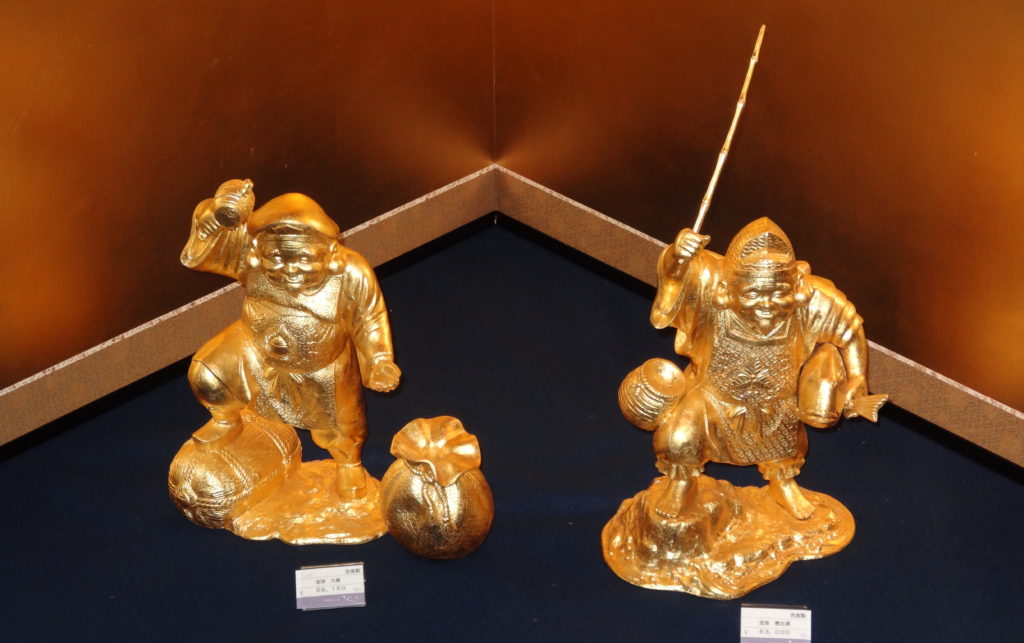 We saw a demonstration of gold leafing and it looked like very delicate work. You certainly wouldn't want to sneeze when doing it. The gentleman doing it was very skillful. He also let us touch the thin sheet of gold in his workshop. It is so thin that it disappeared when I rubbed it with my fingers.
Gold leaf is made by hammering gold into an extremely thin sheet with a thickness of 1/10000 mm. At the end of our visit they offered us tea with pieces of gold leaf in it. It does not taste any different than regular tea. It was absolutely an exquisite experience for us.
We were fascinated with how the gold leaf was made. After this we went to Chaya Bijin, is a traditional souvenir shop selling gold leaf products and cosmetics. The selling prices are on the high side but worth to go inside to have the experience in looking around the gold leaf products displayed there. We bought a few souvenirs and gifts to bring back home.
Kanazawa City
Kanazawa city really surprised us. We had not thought it was as big as it was, and not that much to see and we did not expect to like it much, it was just going to be a transit city for us between the Japan Alps and Osaka. But it is a super cool city, with a vibrant city center and filled with very nice people.
The center of Kanazawa has some really nice shopping streets, packed with nice restaurants and cafes and we particularly liked the "walking street". We totally fell in love with Kanazawa! We wished we had more time, as we discovered that one day is not nearly enough to fully enjoy this beautiful city.
Happy Travels!
Note: The information provided in this post was correct at time of publishing but may change. For final clarification please check with the relevant service.
Related Post