Travel period May 2015
Hoi An is undoubtedly the gem of central Vietnam. The World Heritage site listed Old Town has some of the country's best dining and shopping. Wander the lanes to explore the distinctive architecture, tailor shops and quaint galleries.
Located just a half hour drive south of Da Nang this magical little town, enticing travellers from all around the world, has become one of the most popular destinations in Vietnam, and a common mid-stop for those traveling from the north to the south or vice versa.
Getting to Hoi An
We flew Vietnam Airlines from Ho Chi Minh City to Da Nang and then had our private transfer driver from HTS Tour & Transport pick us up. Along the way we stopped at Marble Mountains before we were dropped at our hotel.
Marble Mountain – a cluster of five marble and limestone mountains. The five mountains are named after the five elements; Kim (metal), Thuy (water), Moc (wood), Hoa (fire) and Tho (earth). It is one of the most popular day tours from Hoi An, located between Hoi An and Da Nang. The Marble Mountains have caves and tunnels that lead to the intricately-designed pagoda, proudly standing on its summit. The view of the surroundings below is simply magnificent. 
About Hoi An
Located in Vietnam's Quang Nam Province, the old trading port town of Hoi An boasts architecture spanning the 15th to 19th century, and has been listed by UNESCO as a World Heritage site since 1999.
It retains its original street plan and many of its original wooden buildings, which show both local architectural styles and the influence of foreign cultures, in particular Chinese, Japanese and European. It's buildings and street plan reflect a unique blend of influences, indigenous (Cham) and foreign (French).
Founded by a Nguyen lord in 1595, it's an extremely well-preserved example of a south-east Asian port town of this period. The town grew in trade, and by the 17th and 18th century, it had become one of the most important Southeast Asian trading ports, harboring foreign traders, especially Japanese, Chinese and Dutch; partaking in all sorts of trades such as silk, china, pottery, and certain spices.
With the granting of trade rights to the French for another port town, Da Nang, Hoi An ceased to be a busy port by the end of the 18th century. On the plus side, this meant that the town remained virtually untouched by modernization for 200 years, giving us a wealth of historical buildings, we can still visit and enjoy today. 
Best Time to Visit
There are two seasons in Hoi An, wet season – from October to February and dry season – from March to September. We visited Hoi An in May, and the weather was hot and humid. Weather wise, the best months to visit are February to April because of the pleasant weather. Beware of the typhoon season, from October to mid-December, as Hoi An's Old Town is prone to flooding. 
Accommodation
We stayed at Hoi An Beach Resort, located just a 45-minute drive from Da Nang International Airport, nestled between Cua Dai Beach and De Vong River. We could not have loved it more. On checking in, we were informed that our room was to be upgraded for free. Yippee! ????
Our free upgraded room was absolutely massive and comfortable, with a large bathroom and balcony overlooking the garden. Breakfast was included in our stay with both Western style and Vietnamese style buffet, and it was amazing.
From the moment of check in to the time we left we were really impressed with all the staff that we came into contact with. They were incredibly helpful and accommodating, particularly the front desk and restaurant. We wholeheartedly recommend it.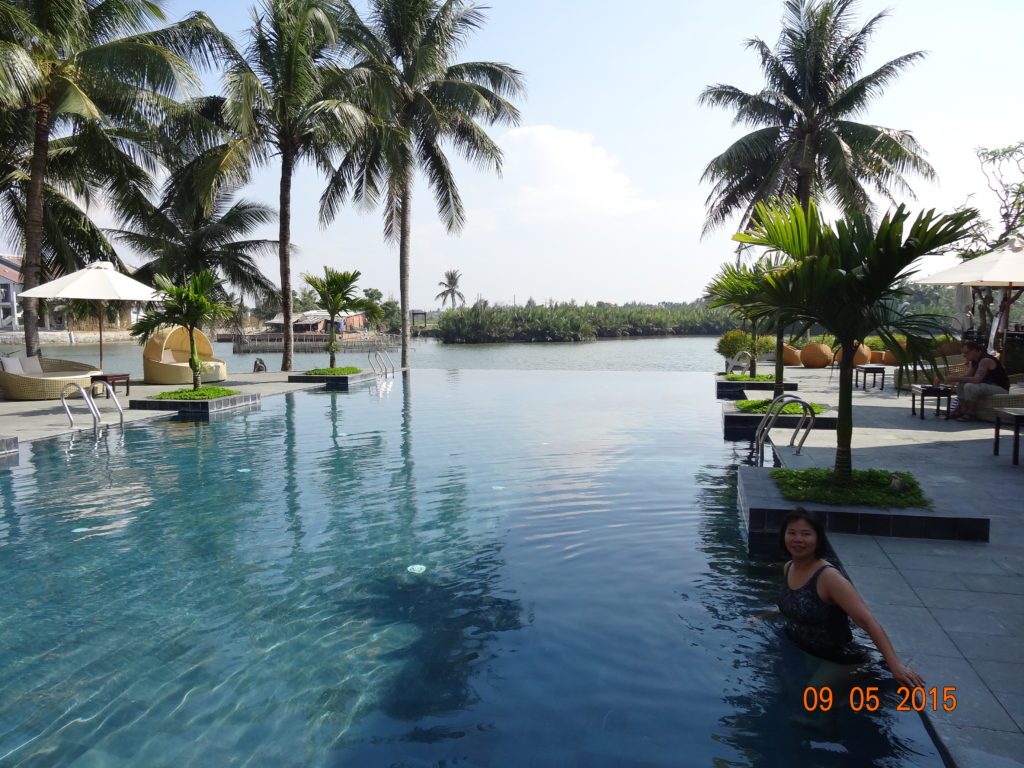 Compared to the modern and bustling Ho Chi Minh City, Hoi An is less crowded,  quaint and traditional; yet never being out of touch with the outside world. We instantly felt peaceful and relaxed, away from the buzzing city. So, we dropped our bag, put our bathers on and jumped into one of the outdoor pools to relax for a bit longer before for dinner.
The next day we were excited to explore the Old Town. Getting to and from the town we took advantage of the shuttle bus provided by the hotel. The shuttle operates every two hours and is free of charge.
The Old Town
Just a short walk from the shuttle bus is the Old Town. Hoi An Old Town is an exceptionally well-preserved example of a South-East Asian trading port dating from the 15th to the 19th century and has become a unique heritage site.
The town is packed with picturesque historical homes, pagodas and street-side cafes. The entrance ticket is technically required to enter the Old Town, but really it is only checked when you go inside one the points of interest on the list. The ticket is 120,000 VND, with tear-off coupons allowing entrance to five places and it's valid for 10 days.
It's also extremely popular for buying hand-made clothing. As we walked past a few tailor shop fronts, we soon realized that there is pretty much nothing that the tailors can't make. You can simply use your imagination. If you are looking for a fancy suit, a new dress or some new shoes, then you can find the right tailor here. If you fancy a new handbag, backpack, wallet or a laptop sleeve, you can get it made here as well. You're spoiled for choice with tailors in Hoi An, it's very overwhelming.
We spent a couple of days exploring the Old Town. For an overview of what to see in the Old Town I advise to read our 'Things to See in Hoi An Old Town' article.
Cua Dai beach
Cua Dai beach, not far from Hoi An center (about 5 km), is located in Hoi An city, Quang Nam province in the South China Sea and is a long stretch of amazing coastline. Cua Dai beach has kept its character, maintaining its rustic nature, fresh air and sunlight.
From our hotel it only takes a one minute walk across from our hotel. We were here several times in the afternoon, and was one of our favorite things to do in Hoi An. We enjoyed the view of the sea under sheltered palm trees and felt the smooth soft sand under our feet.
This small part of the beach belongs to the resort that we stayed in. There are many activities you can do besides swimming and jet ski, you can enjoy the facilities of the beach club, dine in one of the many seafood restaurants or grab a cocktail from one of the many seaside bars, and chill in a cabana.
Our Impression of Hoi An
Hoi An really surprised us, it was so much better than we expected. This small town is the perfect mix of history, culture, shopping, cuisine and relaxation. We loved spending time by the river, watching the sunset and strolling through the Old Town.
The city's historical and cultural charms are definite musts in your itinerary. But finishing off your day with a pure Vietnamese beach experience in Cua Dai would be a perfect way to complete your trip.
Getting Around in Hoi An
Getting around in Hoi An is very convenient compared to other cities in Vietnam due to its compact size, everything can be pretty much be done on foot or bicycle. There were plenty of cheap and reasonably reliable metered taxis available if you are not inclined to cycle, though we recommend you look out for reliable taxi companies such as Faifoo and Mai Linh.
Cyclos (three wheeled human powered tricycles) can be found within Hoi An Old Town, offering a leisurely cruise along the pedestrian-friendly streets. As the old streets are closed to motorized traffic several times a day.
Note: The information provided in this post was correct at time of publishing but may change. For final clarification please check with the relevant service.
You May Also Like